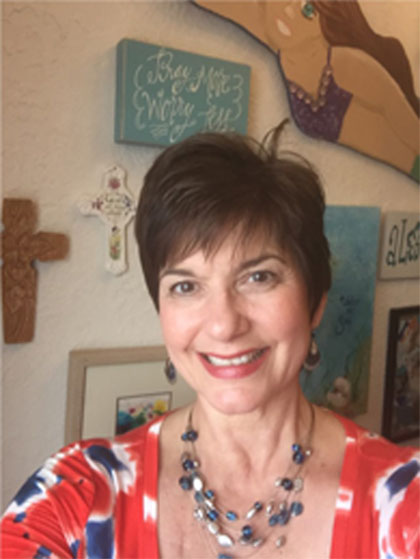 Rev. Lani Rousseau
Lani Rousseau, affectionately known by her former children and youth friends as "Rev. Rou," began her ministerial career with a firm foundation in Christian Education. Her childhood was spent in San Leandro, California, located in the San Francisco Bay Area, where she was raised and active as a young person in the Catholic tradition, but a neighbor's invitation to visit the Methodist church opened up a whole new world and led to her call to full time pastoral ministry in the Texas Annual Conference.
Lani began studying the Bible and serving at Bear Creek UMC where she first attended. Her love of the scriptures and liturgy, background in drama, gift for music and singing, and her natural love of people of all ages resulted in her leading Vacation Bible School, children's messages, teaching adults, serving in the choir, and eventually God revealed her call to full-time ordained ministry, and the rest as they say, is history! A new bachelor's degree and all this practical Christian Educational experience led to her first job in ministry as Director of Children and Families at First UMC's Westchase campus in west Houston. Later, she would return to Bear Creek, as Adult Ministry Director, and begin her seminary courses and be appointed as an associate pastor.
Lani received her Master of Divinity degree from SMU Perkins School of Theology and was ordained an Elder in 2013. She received her undergraduate degree, a Bachelor of Arts in Liberal Arts from University of St. Thomas, Houston, Texas, where she studied Drama and Music and also holds an Associate degree in Business Administration from Chabot College in Hayward, California.
Lani assumed her new appointment to First United Methodist Church in Orange, Texas, in July 2019. She previously served God and the Methodist church as senior pastor at Perritte Memorial UMC in Nacogdoches, Texas, but had appointments as Senior Pastor at First UMC in Sealy, Texas, as Associate Pastor and Director of Youth at FUMC, Katy, Texas, and as Associate Pastor and Director of Adult Ministries at Bear Creek UMC.
Lani has been married to her husband, Don Rousseau for 32 years. They have four adult children, Beth, Anne, Chad, and Olivia and 5 grandchildren, whom they adore. They spend their favorite days in Galveston, Texas, where they own a Victorian home in the historic district that they call their "Sanctuary by the Sea." Don, a retired educator, is a Master Gardener. Lani enjoys cooking and what she calls "treasure hunting" in resale shops around Galveston and the other small towns where they have lived. She is an avid reader, a quilter, designer of Christian banners, painter, and crafter. She loves spending days in her art studio in Galveston and decorating their Victorian for Mardi Gras and every season! Always willing to learn something new, she has started learning to play Mah Jongg and euro-style board games. Lani and Don also have two spoiled Yorkies named Edsel and Jet.
Click here to contact Lani.